The increase in e-commerce and its use cases have opened new doors for individuals to earn passive income. Dropshipping is a method that allows individuals to sell products without having to keep an inventory of those items. It's low risk and high reward, but the market is extremely saturated right now. Since it looks like such a great business idea, you might wonder if dropshipping a good idea. There are many answers to this question.
That's why many think dropshipping is dead and might not generate a good passive income. I believe that to be true, but there is still room for growth if you do it well. I will explain everything about dropshipping and show you whether it's still a viable way or not to start dropshipping.
What is Dropshipping?
Dropshipping is a type of online e-commerce method. A store sells products to its customers without actually stocking the items in its own warehouse. When a store sells a product with the dropshipping e-commerce method, the store owner purchases the item from a third party and ships it to the customer. This means that the store owner never sees or handles the product themselves.
Dropshipping allows store owners to sell a wide variety of products without having to worry about investing in a large inventory upfront. This can be useful for small businesses that don't have a lot of capital in cash to invest in inventory. Dropshipping also comes with its own challenges and drawbacks.
One of the main challenges is that store owners are reliant on their third-party suppliers to fulfill orders. This can lead to issues with inventory management and shipping times. This negatively impact the customer experience. Also, because the store owner doesn't have physical control over the products, it can be more difficult to provide high-quality customer service and support.
Generating Passive Income Through Dropshipping and Why Is Dropshipping a Good Idea?
Generating passive income through dropshipping is a business model involving setting up an online store and selling products to customers. However, you do this without physically handle the inventory. When a customer places an order on your website, you buy the product from a third-party supplier and make the supplier ship it to the customer.
Now, this kind of seems like it's all manual and doesn't fit into what passive income is. True, it requires some upfront work, but there are systems that you can automate this process with. For example, Shopify is one of the biggest dropshipping automation tools you can use. You can create an online store relatively quickly and inexpensively and start selling products as soon as you have a website set up.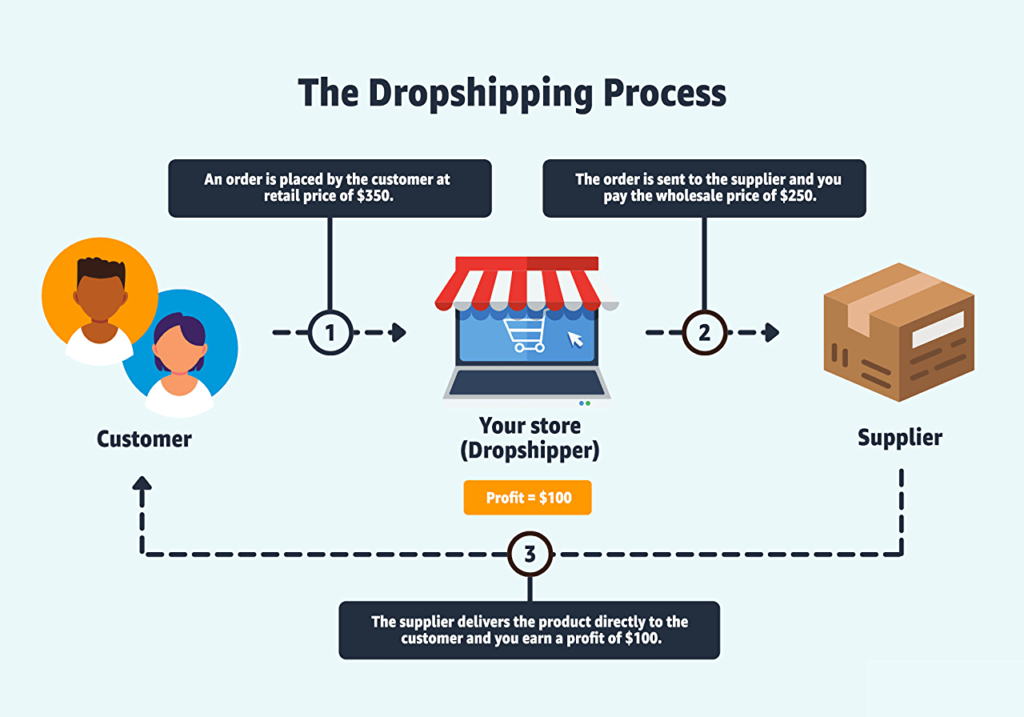 Once you have an audience and your website is generating traffic, you can transition it into a passive income. However, Dropshipping can't %100 be passive income. Because however, it is you are doing, you still need to spend at least one or two hours a day to keep things going. This involves managing customer requests, paying and shipping out the products, taking returns, and so on.
How Dropshipping Works
To understand how dropshipping works, let's consider an example. Let's say that you own an online store that sells handmade jewelry. You have a website set up with a shopping cart and payment system. You have a selection of beautiful handmade earrings, necklaces, and bracelets for sale. When a customer comes to your website and decides to buy a pair of earrings, they add the item to their cart and complete the checkout process.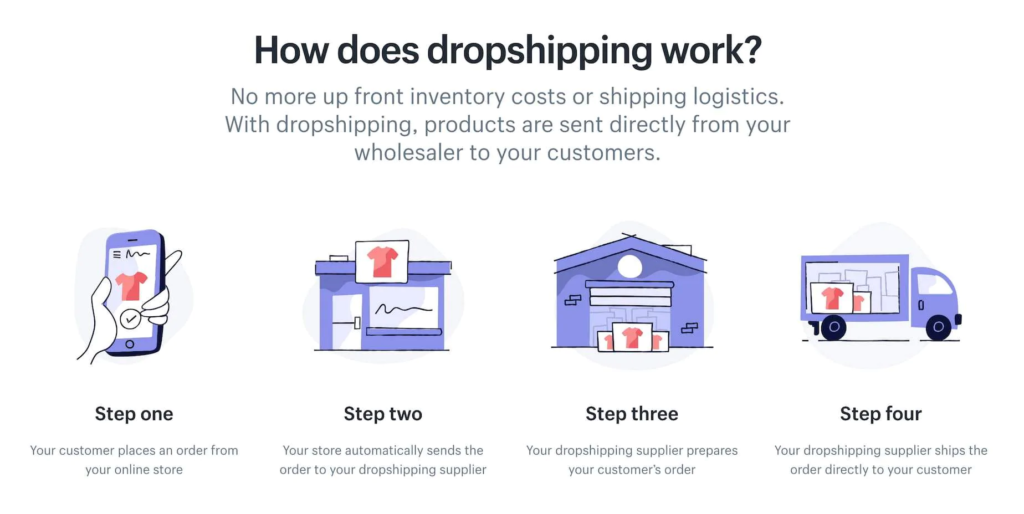 Once the customer completes the checkout process and pays for the earrings, you receive an order notification. You then log in to your account with your dropshipping supplier and place an order for the earrings. The supplier will package the earrings and ship them to the customer.
They will do it by using the shipping address provided during the checkout process. The supplier will charge you the wholesale price for the earrings. You will keep the difference between the wholesale price (as in the price you buy) and the retail price (as in the price you sell) as your profit.
Setting up your Dropshipping business.
Setting up a dropshipping business is a simple process that involves a few key steps. First, choose a niche or product category that you want to focus on. It's important to choose a niche that you are passionate about. You will choose your domain name and focus your marketing efforts on this.
Then, you will need to set up an online store where you can sell your products. There are some platforms available that allow you to create an e-commerce website. Like Shopify or WooCommerce.
After this, find a dropshipping supplier or wholesaler to source your products. Many directories and marketplaces can help you find suppliers, such as SaleHoo or Alibaba.
As the last step, you need to start marketing your business. There are various methods to promote your store, including social media marketing, content marketing, and search engine optimization.
How do I find reliable suppliers and manufacturers for my dropshipping business?
Finding reliable suppliers and manufacturers for your dropshipping business is an important step in ensuring the success of your business. Here are a few tips to help you find reliable suppliers:
Make your research. Look for reviews and testimonials from other businesses that have worked with the supplier. Try to get in touch with them to ask about their experiences.
Use directories and marketplaces. You can use places such as SaleHoo, Alibaba, and Global Sources. These platforms can be a good starting point for finding suppliers, but you still need to do your research.
Consider using a dropshipping service. Oberlo or Spocket are two famous services. These services typically vet their suppliers and only work with reputable companies.
Contact the supplier directly. Contact them directly and ask questions about their products, shipping times, and policies.
By following these tips and taking the time to thoroughly research and evaluate potential suppliers, you can find reliable manufacturers and suppliers for your dropshipping business.
The role of the drop shipper, manufacturer, and customer
When you are operating a Dropshipping business, you are a drop shipper. The person you are buying the products from is the manufacturer (or the supplier), and the end user who purchases the product from you is the customer. Your mission is to get the product from the manufacturer (or supplier) and sell it to the customer
The role of the drop shipper here is to be an intermediary to make the transaction safe and sound. The manufacturer (or the supplier) provides you with the item and ships it to the customer at the time you agree with the manufacturer.
In a nutshell, the drop shipper acts as a middleman between the manufacturer and the customer. They handle the sales and marketing of the products. At the same time, the manufacturer handles the products, and the customer is responsible for purchasing them.
Benefits of dropshipping for suppliers
You might ask yourself why suppliers would be open to doing dropshipping and letting us take the profit when they can sell it themselves and profit more. This is a legit question, and dropshipping kind of revolves around this question. You have to make the customers buy the item from you at an inflated rate.
The reason many people choose to buy items from individual stores or big marketplaces like Amazon is reliability. Buying it from Aliexpress or other retailers brings a lot of headaches in every part of the journey. The person in the middle, the drop shipper, handles everything. The supplier gets to sell more of their products through a middleman. That's why it benefits the suppliers.
Potential of Passive Income in Dropshipping
When you set up a dropshipping store and start making sales, you can generate passive income through the profits you make from each sale. The key to generating passive income through dropshipping is consistently putting effort into marketing your products and building your customer base, as this will help drive traffic to your store and increase sales. With a successful dropshipping store, you can potentially earn a passive income by simply processing orders and fulfilling customer requests.
When it comes to the numbers you can achieve in your sales, this is a hard question. It will depend on a number of factors, including the niche you choose, the products you sell, the price points of your products, and your marketing efforts. Additionally, there is always some level of risk involved in any business venture, and there are no guarantees when it comes to generating passive income.
That being said, there are many people who have been able to generate substantial passive income through dropshipping. With the right combination of products, marketing, and customer service, it is possible to build a successful and profitable dropshipping business. However, it's important to be realistic and understand that it may take time and effort to get your business off the ground and start generating passive income.
It's also a good idea to diversify your passive income streams to minimize risk and ensure a steady stream of income. This can include investing in multiple dropshipping stores in different niches or pursuing other passive income opportunities in addition to your dropshipping business.
Pros and Cons of Dropshipping
There are both pros and cons to using a dropshipping model for an e-commerce business for passive income. Here are some of the main advantages and disadvantages to consider.
Pros
Low overhead costs.
Wide product selection.
Easy to set up.
Cons
Limited control over the product.
Dependent on the supplier.
Low margins.
Tips on Successfully Generating Income Through Dropshipping
How do I choose the best products to sell through dropshipping?
When it comes to choosing the best products to sell through dropshipping, there are a few key factors to consider. However, you should potentially look for a nice of high demand low competition.
Niche.
Demand.
Profit margins.
Supplier.
By considering these factors, you can choose the best products to sell through your dropshipping business and increase your chances of success.
How do I market and promote my dropshipping business?
There are several options to market and promote a dropshipping business. The best method is to leverage social media or just directly do outsourcing to a digital marketing company. However, the latter should be the latest resort because marketing and promoting your dropshipping business is quite easy nowadays.
My favorite options are to use Facebook, Instagram and Twitter. All three have their own marketing sections, but additionally, you can work with influencers for them to promote your product.
How do I handle my dropshipping business's shipping, returns, and customer service?
There are a few options for handling shipping, returns, and customer service for a dropshipping business:
Partner with a fulfillment center. You can use a fulfillment center to handle the shipping and returns process for you. The fulfillment center will store your products and handle the packing and shipping of orders to your customers. Amazon FBA is the biggest example of this.
Use a dropshipping service. You can use services such as Shopify for them to handle everything for you. This can be a good option if you want to outsource these tasks, but it may also come at an additional cost.
Do it yourself. You can also handle the shipping and returns process yourself. This may require you to invest in some equipment and supplies, such as shipping labels, packaging materials, and a shipping scale. You will also need to manage customer inquiries and complaints yourself or delegate these tasks to someone on your team.
Ultimately, the best option for you will depend on your business goals, resources, and customer needs. It's important to carefully consider the pros and cons of each option and choose the one that is most suitable for your business.
The Verdict
To conclude, dropshipping is a lot of work. Just because it's e-commerce without stock and you do it through retail arbitrage doesn't mean that it will be easier. You will still need to do a lot of work, and now it's riskier than ever because of the number of people doing dropshipping. You have to go big, invest big, and spend a lot of time.
Handling product sourcing, marketing and promotion, customer service, shipping and returns, and every other part of online retail is not easy. I personally don't recommend dropshipping as there are better methods to make money without less risk and less time to spend.