Investing is one of the most important things for everyone, especially nowadays when there are new crises coming up every day and you have to invest in a budget. It's obvious that there are many ways to invest but which ones are good?. You can invest your money or invest in yourself. Both generally focus on providing you a new source of income in the future. However, one could be more favorable than the other.
Yet, if you are not earning well right now and you can't find the room to invest or invest huge chunks of money, that shouldn't stop you. You can always invest in a budget and even make the whole process automatic. It just takes a bit of understanding of yourself, your goals, and your current financial situation.
Another thing that many people think is that investing little money is not worth the effort. That's not true at all because investing little money every month will turn into big money later in life. Yes, it will take longer than usual, but that's not a showstopper, especially if you are still young, in your 20s or even 30s and have plans for your future. That's why you shouldn't worry about how much you have.
Always Have a Plan for Investing in Yourself Even When You Invest in a Budget
Investing is not always about investing your money. It's also investing in yourself. For that, you need to know the kind of person you are, what you like, and what you would like to have or do in the future. You can still make room for investing in yourself even with a budget, and it should be one of your top priorities.
When you are trying to squeeze in the budget to invest your money, you shouldn't overlook the priority of investing in yourself. You should always do both, no matter what. If you are not saving for your future self, then you are missing out on a lot of potential income and financial security in the future.
When you invest in yourself, it might return quite a lot of income in the future, too. For example, if you learn some languages and make use of them, that could create a new career path or additional source of income for you.
Cutting Costs Should Always Be in Your Mind
While it is always a good idea to keep your spending under control, there are times when you might consider cutting expenses to help with an investment. Cutting simple costs could give you more room to invest, so that should always be something you track. That's why it's good to know where you are spending your money with a spending tracker.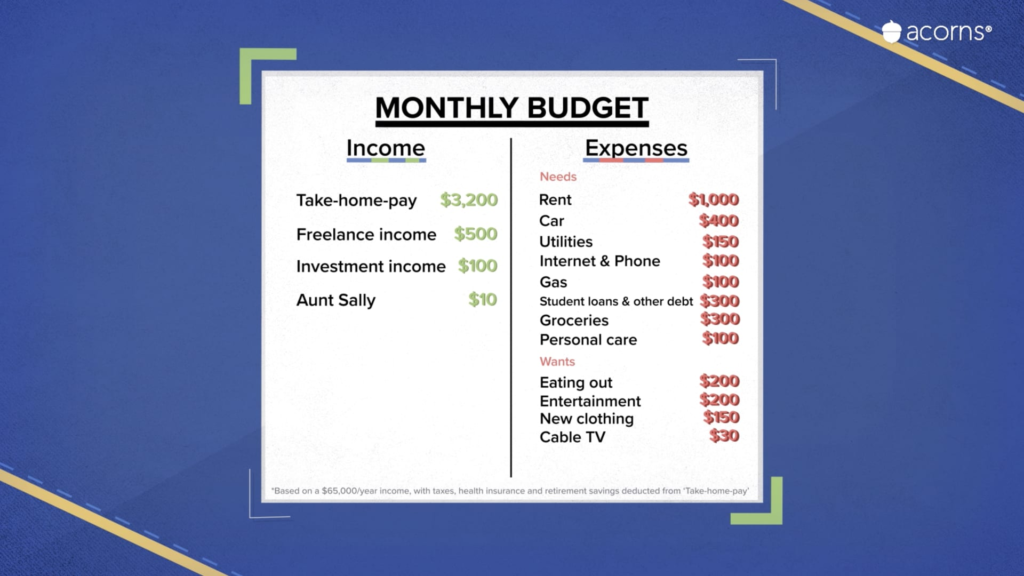 For example, maybe you have been putting towards your car payment for a long period of time, and it is starting to bring you down. Maybe you occasionally purchase groceries that are a little pricier than you would like. In any case, consider how you can potentially eliminate some of these expenses to free up some money to invest.
What You Can Invest In a Budget
There are endless opportunities in which you can invest your money. Some of the options are only for high investments, and some for low. There are also opportunities that are both an option. Here are three of the most common opportunities to invest in.
Real Estate Income Trusts – The Steady Income King
Real estate is no doubt one of the most reliable methods to invest. However, it is also one of the most expensive options out there to enter. Real Estate Income Trusts (REITs) is an easier way of investing in real estate indirectly. You are basically investing in companies that have estate under control and gain rental income.
They are legally obliged to pay out 90% of their income as a dividend. This means that you will get income like you are getting rent when you buy REITs. Additionally, most real income trusts have a high yield making them a good investment compared to the associated costs.
If you are investing in REITs for the long term, then you will make even more money than if you were investing for a shorter period of time. So, if you are looking to make some money now, real estate is a great way to go.
Stocks – Growth and Sometimes Income
Perhaps the most popular and frequent method of investment in stocks. They are also a great way to invest in a budget because fractional shares give you the option to invest as little as 1$. However, stocks could be riskier than real estate because many companies have poor performance.
You have to pick the winners, and that's the hard part. Depending on your goals, you can also opt for index funds for low risk and low return, which is also okay. Additionally, most stocks and index funds will produce some income in dividends even if the economy is quite poor, which means if you are investing for the long term, stocks can be a good source of income even when the economy is not doing well.
Mutual Funds – Less Risk, Less Gain
Investing in a mutual fund can be a good way to increase your chances of making a profit even if the market goes down. Why is that? Well, most mutual funds have great track records, so if the market goes down, you will still likely be able to make some money if you invest in a good enough fund.
Additionally, some funds have a lower risk factor, so if the market goes up, you will still be able to make some money even if you invested in a bad fund. So, if you are interested in making sure you have a good amount of income in the future, a mutual fund might be a good investment for you. It's very low risk but also very low gain.
Why You Need a Budget and How It is the Foundation of Your Financial Planning
Budgeting is a way to set your financial goals and plan to achieve them. It is a process of setting up priorities and understanding your spending habits. Budgeting helps you identify where your money is going, which can help you make changes to reduce wasteful spending. It also helps you make informed decisions about how to spend your money on important things.
A budget is the foundation of any financial plan because it lets you know how much money you have coming in, what expenses are coming up, and what's left over for saving or spending. You can't build sustainable financial planning without knowing your budget and tracking your spending. However, as individuals tracking this is not really easy. That's where most people fail to succeed.
How to Make a Budget and Be Accountable With it
A budget can be a great way to track your spending, set goals, and avoid debt. It should not be a restrictive measure but rather a helpful tool to help you achieve your goals.
A budget is just a plan for how you will spend your money. It is not about denying yourself anything or cutting out all the fun things in life. It's about being aware of your spending and ensuring that it aligns with your financial goals and values. People often have trouble sticking with their budgets because they find them too restrictive or difficult to maintain over time. But the truth is that it should not be hard if you make a reasonable budget!
When you are building your budget, the things you have to look for are basic needs such as health, groceries, housing and fun. You have to look at your income and how much you should spend if you would like to have excess money to spend. That makes you accountable for your budgeting and makes sure that you are not overspending.
3 Best Free Budgeting Tools That'll Help You Stick to Your Plan
Budgeting tools are not just for financial experts. You can find a budgeting tool that fits your needs and goals. There are also free ones, but not all of them are actually paid. These free tools could help you move forward quickly, but you should know what you need and want.
The first step is to figure out what you want to achieve with your budget. Do you want to save more money? Do you need help with debt repayment? Are you trying to maintain a certain lifestyle?
If the answer is debt repayment, the best budgeting tools will be those with a built-in debt repayment calculator. However, if the answer is saving more money, then these budgeting tools will have an extra "savings" category for you to enter your savings goals. If the answer is maintaining a certain lifestyle, then these budgeting tools will help you calculate how much money it would take for such a lifestyle.
They will show how much of your income would go towards it. All of them could have a specific use case, and it's up to you to choose one. None of the tools I present here in this article is sponsored, and I only talk about my experiences, knowledge and use cases.
Google Sheets
Free to use, and it belongs to Google, so you can use it anywhere you want. You manually input your expenses, income, or whatever else you want and customize it. It all depends on you, and it's fully customizable.
Pros
Completely free to use if you have a Gmail account,
You can access Google Sheets from anywhere via desktop, mobile app or tablet,
There are templates that other users make that you can use,
It's fully manual and has a hands-on approach,
You can also use third-party add-on software to import your banking transaction data,
Highly secure since it uses Google server protection.
Cons
You have to manually put in everything,
It might be overwhelming to choose among thousands of different budgeting templates.
Mint
Mint has been increasing in popularity in the past years because of its features and the fact that it's completely free to use. It's highly automatic and offers a variety of things that you can use for any budgeting-related thing you need.
Pros
Completely free to use,
You can sync your bank accounts and credit cards,
You can create goals and track your investments in real time,
There are pop-up customized alerts for going over budget, certain transactions, etc.,
Reminds you about upcoming bill payments,
It has a credit monitoring service, and it offers education tools like a loan repayment calculator,
It has a variety of security features such as Verisign scanning, multi-factor authentication and Touch ID mobile access.
Cons
There are some complaints about ads and some things that are broken in the app, such as glitches.
Personal Capital
Mostly focusing on your investments and tracking your investments, Personal Capital is one of the best free budgeting tools out there with a comprehensive investment overview. It is only a mobile app, but if you have investments, it gives you a comprehensive outlook on them.
Pros
The app itself is completely free to use,
There is a money-tracking dashboard, a net-worth tracker, and a breakdown of your investment portfolio,
It has comprehensive investment tools that include a retirement planner, education planner and fee analyzer to check portfolio fees,
You can sync your bank accounts, credit cards and many financial accounts,
Daily blogs for financial planning tips,
It has data encryption, fraud protection and strong user authentication for security.
Cons
It's not strong in the budgeting features, and they are not as comprehensive,
Not available on the web,
Investment management services are not free and come with a cost.
The Verdict
To conclude, investing is for sure not easy. Especially if you are on a budget and don't have as much to invest as others. However, this doesn't have to be a showstopper because you can still invest with as little as 1$ in different opportunities. It's about discovering those opportunities and taking advantage of them.
On top of it, if you can't increase your income, decreasing your spending as much as you can by tracking your budget is another good idea. You can use budgeting tools for this and ensure how much you have left to invest.